In the United States, people with disabilities are significantly underrepresented in the workforce.
One out of every 12 individuals in our country faces some type of inherent disability that presents a barrier to employment. Within this group, 70% of the individuals have a desire to work and yet have not been able or even given a chance to secure employment.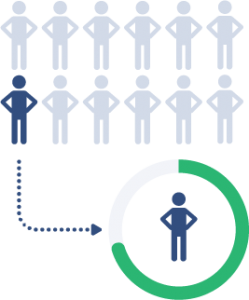 While individuals with disabilities represent nearly 10% of the population, they comprise just over 5% of the workforce.
The labor participation rates in the general population (individuals working or seeking work) exceeds 75%, and yet for those individuals with disabilities, the participation rate is less than 33%.

In addition to these citizens with disabilities, there are many individuals in our community who face other barriers to meaningful employment.
Life'sWork has a 90-year history of supporting and empowering individuals.
At Life'sWork, we work tirelessly to build pathways to employment, confidence, and opportunity for those who need it most.
Our services and programs provide not only the training to help individuals become employable but also the support they need to secure employment and gain the self-esteem and independence that comes with meaningful employment.
Every human has the right to a life of purpose.
Work helps people find purpose in their lives and paves a pathway to economic independence while also providing them with the means to live.
Through an array of employment-related services, we enhance the lives of people facing barriers to employment. We serve individuals with developmental and/or intellectual disabilities, physical limitations, and other employment barriers. Our clients include participants in public assistance programs, people who have limited work experience or education, individuals who desire to enhance their job skills, as well veterans and youth who may be at-risk or adjudicated.